#GivingTuesday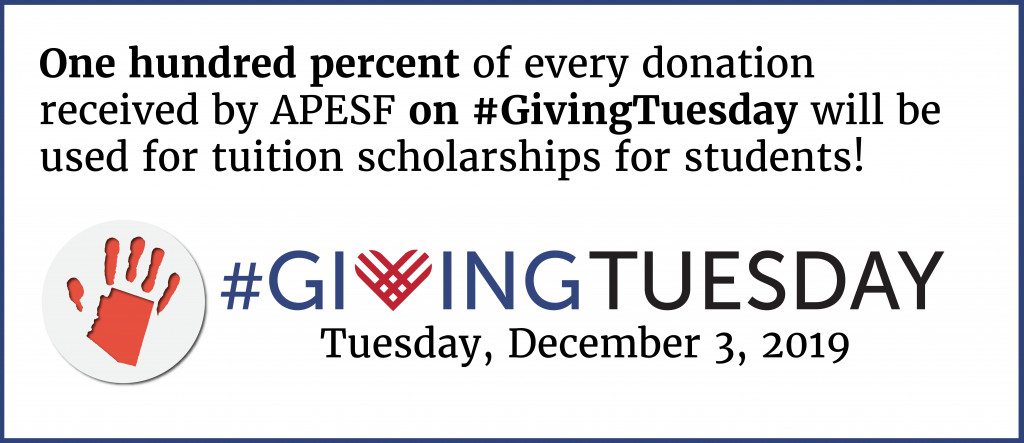 What is it?
#GivingTuesday is a global day of giving fueled by the power of social media and collaboration. Observed on the Tuesday following Thanksgiving and the widely-recognized shopping events Black Friday and Cyber Monday, #GivingTuesday kicks off the charitable season when many focus on their holiday and end-of-year giving. Since its inaugural year in 2012, #GivingTuesday has become a movement that celebrates and supports giving and philanthropy with events throughout the year.
Visit the #GivingTuesday website to learn more.
When is it?
Tuesday, December 3, 2019
How is APESF involved?
As those who've participated in the past know, Arizona allows taxpayers to make a private school tax credit donation (up to $1,135 for individuals and $2,269 for married couples for 2019) and receive a dollar-for-dollar credit against money owed to the state. In addition, 100% of every donation received by APESF on 12.3.2019 in support of #GivingTuesday will be used for tuition scholarships for students!
NOTE: Online donations must be made on 12/3, and check donations must be postmarked with 12/3 to be processed as #GivingTuesday donations. This promotion is for tax-credit donations up to the annual allowable maximums only. Charitable gifts to the organization will be used to support students in other ways.