Our organization is continually blown away by the accomplishments of the students we serve. For this reason, we're brining you a "Senior Spotlight Series" that highlights the successes of some of our Class of 2017 graduates. If you're a scholarship recipient who recently graduated and would like to share your story, email Alexia! 
Karaline started at Gary K. Herberger Young Scholars Academy in 2013. The academy is designed for gifted students in grades 7-12 who thrive in a highly engaging learning environment.
Karaline's mom shared the following with us:
Karaline is very thankful for her support from APESF. By having the opportunity to attend the Herberger Young Scholars Academy, she was able to pursue her passion of learning, take classes at ASU and learn how to collaborate among a diverse group. She was named a National Merit Finalist and was awarded the honor of Valedictorian of her graduating class. Karaline has accepted a scholarship to the University of Oklahoma Honors College where she plans to major in mathematics and international studies. Thanks for letting me brag a little on my kid… APESF has made a huge difference for her!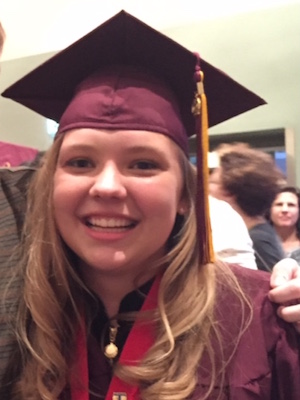 Way to go, Karaline!